Austin Custom Brass is honored to be an official dealer of the world-class Schagerl Berlin model rotary C trumpet!
Rotary trumpets have hit the mainstream of American orchestral work. As more and more orchestral auditions require excerpts on rotary trumpet, owning a rotary c trumpet is becoming increasingly important if you want to win a job. Maybe you borrowed a horn to win the job and now you need your own horn to keep it. Even as a freelance classical trumpeter you will get called for gigs that require a rotary trumpet. Because of the subtle differences in the feel and response between piston and rotary trumpets, you need a horn you can practice with on a regular basis if you want the best musical results.
Schagerl's Berlin model rotary C trumpet features perfect balance in all registers, easy response, and a distinctive dark sound.
For the best intonation you can order this horn with the optional klappen keys. To hear the effect of these keys, check out the excerpt videos below.
If you have any questions please send us an email or give us a call at (816) 410-0826! We also offer several financing options.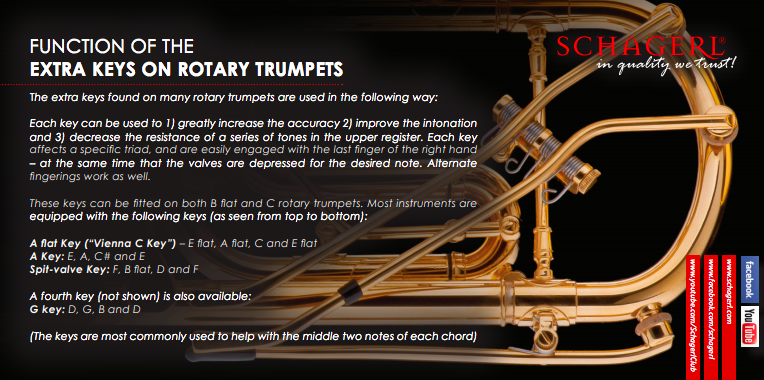 Check out this quick video we recorded at the shop!
Key: C
Bell:

132 ml / 0.5 gold brass

Valve stick:

heavy (ML bore)

Mouthpipe:

changeable
All Schagerl trumpets are shipped for free in the US!
Plays well with the Schagerl Apredato Mouthpieces!
Custom builds take about 12 weeks.
Austin Custom Brass, ACB, Trent Austin, For sale, custom brass shop, custom trumpet, Kansas City, kc, kcmo, Trumpet, Cornet, Flugelhorn, Adams, Adams trumpet, Adamsfamily, mouthpiece, mouthpieces, custom mouthpiece, best trumpet, cheap trumpet, We have mouthpieces equivalet to the Laskey 84D, Warbuton 2D, Laskey 84B, Warbuton 2MD, Laskey 84C, Warbuton 2MC, Hickman GW, Bach 1X, Monette B1-1, 30's Bach NY1, Vincent Bach 1 mouthpiece, Laskey 80B, Haefer, Yamaha 16C4, Schilke 16C4, Bach Mount Vernon 1 1/4C, Curry 1.25BC, Bach 1 1/4C, Bach 1/4 C, Tilz 1 1/4CE, Monette B2, Monette B2S3, ACB 1.25C, MV 1-1/4C, Monette B2LD, Tilze 1 1/2E, Bach 1 1/2B, Monette B3, Curry 1.5BC, Warbuton 3MD, Bach 1.5C, Monette B3, Curry 1.5C, Warbuton 3MC, Bach 1.5C, Monette B3, GR 67, Monette B3L, Bach 1.5D, Mount Vernon 3C, GR 66.5, Mount Vernon 3B, BH3, Monette B4, Bach Mt. Vernon 3, Monette B4S, Bach Mt. Vernon 3D, Monette B4L, Bach 2 1/2C, Bach 3D/E, Curry 3DE., Monette B5L, Bach 3, Bach 3B, Monette B5, Bach 3, Warbuton 4MC, Schilke 14B, Monette B6s1, GR 65M, Pickett 5D, Monette BLM, GR 65M/S, Monette BL, GR 65S, Pickett 5E, New York Bach 5B, Pickett 5B, GR 74.7 MX, Bach 5B, Pickett 5C, Curry 5C, Monette B6, Giardinelli 7M, Bach 7D, Monette B7, Bach 7E, GR 64S, Giardinelli 7S, New York Bach 7, New York Bach 7B, Giardinelli 10M, Marcinkiewicz Shew 2, New York Bach 10 1/2C, Shew Yamaha Lead, Marcinkiewicz Shew 1, Giardinelli 10S, Schilke 14a4a, Monette B4L, Bach MV 3D, Marcinkiewicz Shew 1.75, Vintage Gustat Heim trumpet mouthpiece, Al-Cass 1-27, Amati Denak, Cerveny, Amrein, Bach, Baumann, Beck, Benge, Besson, Blackburn Trumpets, E.K. Blessing, Brass Sound Creation, Tomomi Kato, Calicchio, Callet, Cerveny, Chicago Brass Works, C.G. Conn, Couesnon, Courtois, Antoine Courtois Paris, D.E.G., Dynasty, Willson, Weril, Destino by Doc Severinsen, Dobberstein, Gerd Dowids, Eclipse Trumpets, Edwards Instruments, Egger Instruments, Exbrass, Flip Oakes Wild Thing, Finke, First Brass, Freebell, Galileo Brass, Getzen, Haagston, Holton, Hub van Laar, Thomas Inderbinen, JA Musik Group, Vogtlaendische Musik, B&S Challenger, Scherzer, Joseph Sternberg, Jupiter, Kanstul, King, Micheal Kordick, Kroeger Trumpets, Hans Kromat, Kuehnl & Hoyer, Laetzsch, Lawler Trumpets, Lechner, Josef Lidl, Marcinkiewicz, Martin Committee, MAX Trumpet by Charles Colin, Donald Miles, Monette, Josef Monke, Morrison Digital Trumpet, Besson, Musik Spiri, NM Project, F.E. Olds, Phaeton, Puje, Ricco-Kuehn, Ricco Kuhn, Schagerl, Schilke, Martin Schmidt, Scodwell, Henri Selmer Paris, Shaffer, Smith-Watkins, Stomvi, Straub, Taylor Trumpets, Thein Brass, V-Raptor by Bob Reeves, Romeo Adaci, Warburton, Denis Wedgwood, E.M. Winston, Yamaha
Product Reviews
I genuinely love this horn. It's an extremely clean sound and just wonderful to play.
I ordered Berlin Heavy C trumpet and had it for a week now. I am continuously being astonished by well-balanced tone quality and ease of playing this fantastic horn gives. One of the best C trumpets available in the market, if not the greatest!
Just a really fantastic horn. I'm extremely fortunate to own it, and can't wait to use it in an ensemble.