Description
ACB Gen II Trumpet Mouthpieces - Last Chance Closeout Sale!
Only 3 top sizes remain (MV 1.25C, 1.25CS, and 1.5R) in the dropdown menu... grab them for $45 today!
Now that the shop is well established here in Kansas City, I've been back to doing a lot of mouthpiece prototyping and I've come up with some killer new designs! As we get ready to focus on bringing these new mouthpieces to market, I've decided it's time to discontinue the Gen II series I started back when the shop was in Boston. We need to clear out our last remaining Gen II pieces so we have space for the new additions. So grab a couple Gen II mouthpieces at a great discount, with no wait time!
Available while supplies last. Silver plate only. Sold as-is. No returns accepted.
No coupons accepted.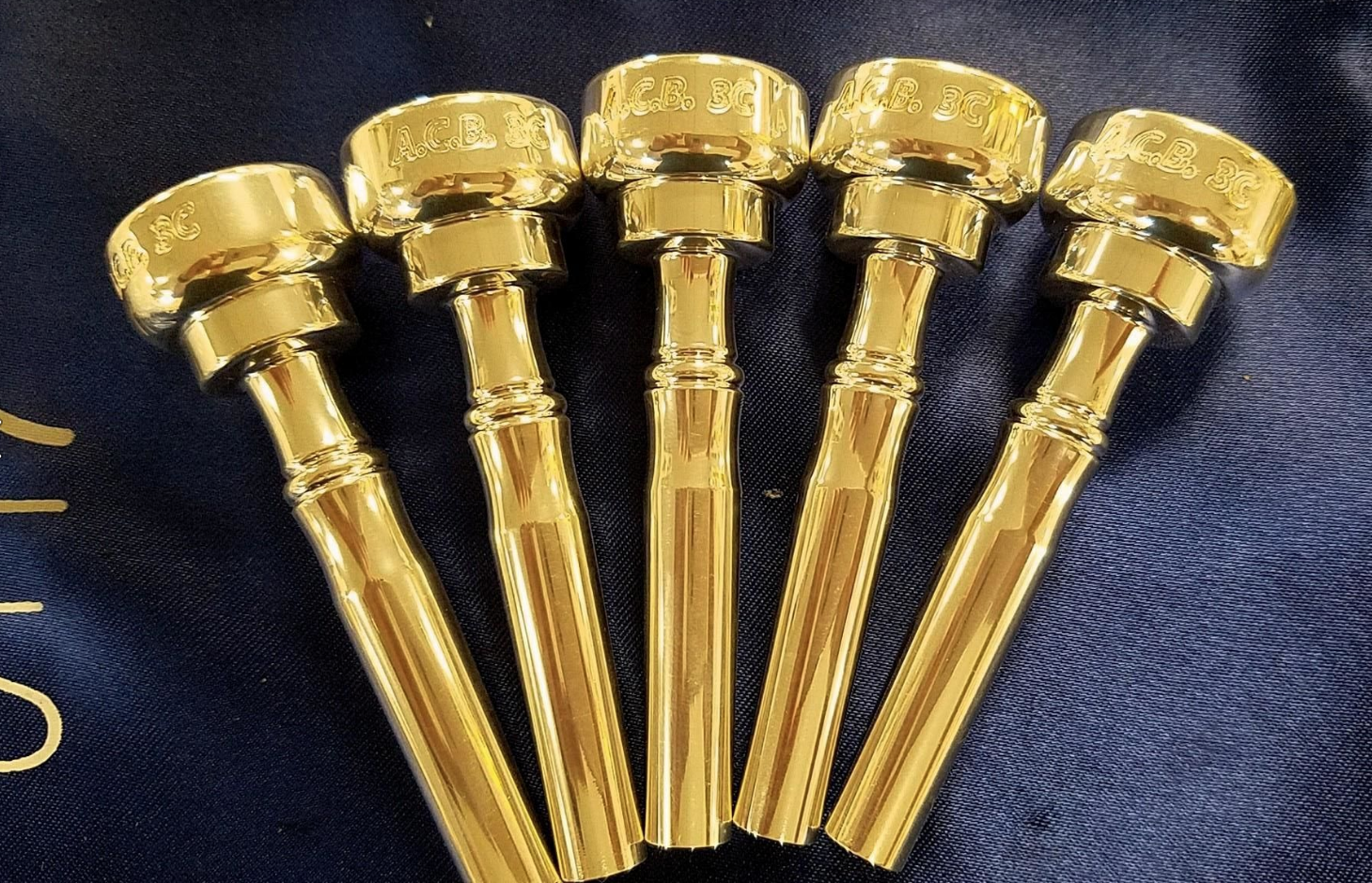 About the Gen II Series
For 6 years I have been waiting for this moment and it's finally here!
Why add a new series of mouthpieces?
It's simple: we can control every aspect of manufacturing. No more delays via plating (we are doing plating in house). Our tolerances are superb, our quality control is meticulous since we now can control every single piece. Engraving is simple and easy to read.
In general, the Gen II pieces are slightly shallower than their Standard Series counterparts (and have a slightly flatter rim).
Here's a quick comparison chart of our Gen II one-piece mouthpieces.

1C: This is my take on an older Bach 1C, but with an improved throat blend into the bowl (which is large). It feels significantly more efficient and sounds more energized while maintaining a rich core throughout the registers.
1.25CS: This is one of my most popular pieces in the ACB line, featuring a traditional 1.25 rim and modified CS style bowl. It also has a much more efficient entrance into the throat. This combination helps the articulation and adds a lively "zip" to the sound. It is especially good on vintage trumpets or overly dark horns to make them "speak".
1.5R: Similar to the 1.25C in cup design except with a bit more crispness overall, this is a great 1.5 diameter offering we recently launched and is very popular.
3C: A take on a uniquely fantastic Bach 3C from the late 60's. I have never played a 3C like it. I think the added mass and proper matching backbore for this piece make this a formidable all-around mouthpiece!
3S: A shallow bowl mouthpiece with my Gen II 3C rim. This mouthpiece has wonderful efficiency and is fantastic for players who would like more zip and pop but prefer staying on larger diameter pieces.
3CV: The 3C rim with my V cup, based on the famous Heim models. This cup is similar to my TA-1 cup except deeper. It produces an extremely warm sound with efficiency you would never think possible.
TA-3: Many people have asked for a larger diameter version of my popular Gen I TA-1 mouthpiece (the first mouthpiece I ever designed on CAD software). This is a streamlined version of that piece with a bit more efficiency. To me it's a "game-changer" for my playing as it is capable of a huge amount of tonal colors and depth. This is bound to be a hugely popular piece in the line and we hope you check out the video above of the TA-3. Check out a clip of the TA-3 in action.
TA-4: A high-compression piece similar to my popular TA-Z (Zing!) but with a slightly deeper cup and more relaxed entrance into the shallow bowl, which will help people who tend to "bottom out" on shallower mouthpieces.
TA-Z: The TA-Z (or "Zing") might be one of the most comfortable commercial mouthpieces I've designed that can still maintain a beautiful sound from Pedal C to Double C and above. It features a .625 diameter with a medium flat rim and shallow hybrid V/S cup.
Call the Mouthpiece Hotline with questions or to place an order! +1-781-816-9664

If you have additional questions send us an email.
Prior to ordering please check our Shipping and Returns policy.
Also note weight indicated in the ad is shipping weight not actual weight of the item.
View All
Close