Who We Are
Trent Austin: Principal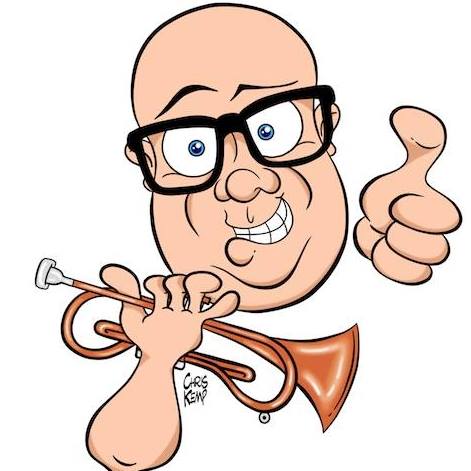 _______________________________
Celebrated trumpet artist, educator/clinician and entrepreneur, Trent Austin is a trumpeting Renaissance Man. His brilliant performances and recordings in both the jazz and classical music worlds, as well as packed-house Master Classes have garnered him rave reviews, awards and International acclaim.
A prodigy, in high school Austin performed at the opening of Euro-Disney and also was a featured performer at the 1992 Montreux Jazz Festival. He was selected first trumpet of the Maine All-State Music Festival and was awarded a full music scholarship to the University of New Hampshire to study classical trumpet. Austin's other early career awards include being named to the prestigious Berklee Grammy® High School Jazz Band in 1993 and designated lead trumpet of the 1995 Disney All-American Show Band. He was also a featured soloist at the 1996 Harmony Ridge Brass Festival and at the 1997 Lake Placid Institute of the Arts Seminar.
As an in-demand pro, Trent has performed with a lengthy list of music's Who's Who: Tony Bennett, Natalie Cole, Joe Williams, Clark Terry, Jack Jones, Bob Brookmeyer, Maria Schneider, Peter Erskine, Arturo Sandoval, Hal Galper, Dick Oatts, Marvin Stamm, Red Holloway, Jesse Davis, Dick Johnson, Kenny Werner, and Bob Wilber. For eleven years, Austin was a featured trumpet soloist with the famed Artie Shaw Orchestra. He is currently a first-call performer in the Boston Metro and Southern New England areas.
Austin has recorded 4 CDs. Trumpet 101 (2001), Two-Toned (2006), Meditations for Solo Trumpet (2009), and Trumpet 102 (2012). Each of these efforts demonstrates Austin's impeccable command of his instrument and marvelous artistic approach.
Trent has studied jazz improvisation privately with greats Jerry Bergonzi, Kenny Werner, Chuck Findley and engaged in extensive studies with Hal Crook and Charlie Banacos. His primary classical instructors include studies with Robert Stibler of the University of New Hampshire, Benjamin Wright of the Boston Symphony Orchestra, and with Edward Carroll, formerly musical director of the New York Trumpet Ensemble.
Fiercely dedicated to the cause and development of music and jazz education, Trent was a trumpet professor at the University of Southern Maine for 9 years and regularly provides clinics and Master Classes nationwide at various trumpet and brass conferences, including at the International Trumpet Guild Conference and other trumpet/brass conferences. Austin also maintains an active teaching studio in Kansas City, MO and worldwide online via Skype, providing trumpet and jazz improvisation lessons.
For booking information and rates please send Trent a note here.
Kyle Lambert: ACB KC Shop Manager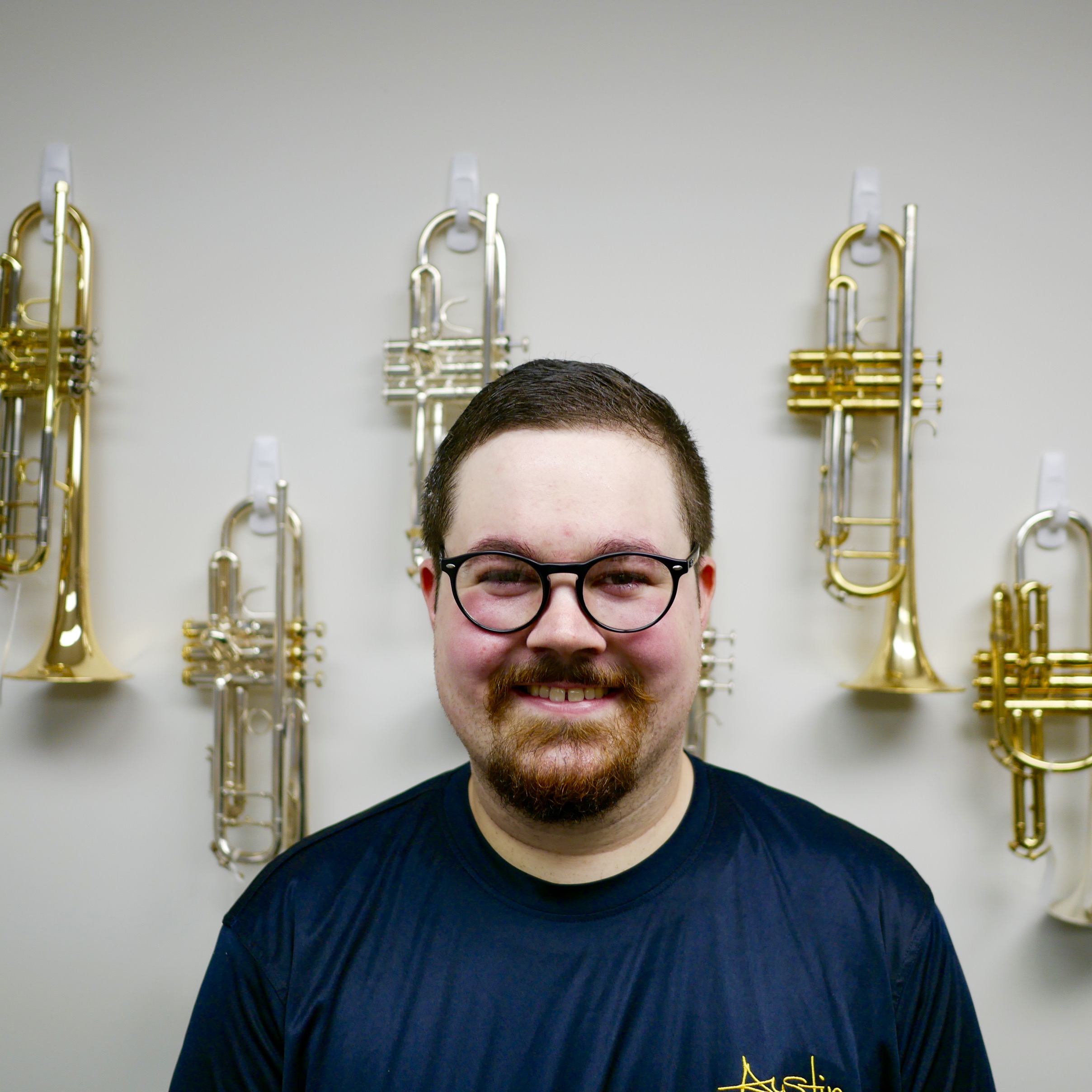 Kyle Lambert is a freelance trumpet player that grew up playing in the greater Boston area. He's been working at ACB since 2017. Awarded a full scholarship at the Berklee School of music he studied Music Education and Jazz Composition at the Berklee College of Music. Kyle's teachers included Greg Hopkins, Phil Wilson, Tiger Okoshi, George Garzone, and Darren Barrett, to name a few. Kyle's main focus in music is small group jazz. He started working in sales with the New Hampshire Liquor Commission, before becoming a full time employee at ACB! Currently, he resides in Kansas City, MO where he is slowly getting into the music scene, and digging every second of it!
Josh McDonald: Sales, logistics, and Mouthpiece consultant
Josh has worked at ACB since 2015. Previously he served as the Coordinator of the Jazz Ensembles at Boston University, and has taught as an adjunct at several colleges in Massachusetts and Virginia. He is a member of NAfME, KKPsi, and Music Performance and Education, Inc. Josh is an active clinician and enjoys teaching and offering clinics. He has performed all over the country, and his compositions and large ensemble arrangements have been performed across the US, Germany, and Singapore. When not working, Josh enjoys playing soccer and Walden Pond… the place, not the book.
Eric Chapman: Low Brass Specialist
Eric Chapman is a trombonist, teacher, composer, and arranger in Kansas City. Born in St. Louis he came to Kansas City to attend UMKC, eat BBQ, and revel in the great jazz history of KC. He has performed and recorded locally with Clint Ashlock's New Jazz Order, Bobby Watson and The UMKC Conservatory Jazz Orchestra, Son Venezuela, and his own ensembles J.E. Chapman Presents The Music Circus. He also recorded and released an album of original works for large ensemble titled 364 Days which received awards from The Global Music Awards. He was honored to participate in the BMI Jazz Composers Workshop. His original score can be heard in the social documentary by Quintin LaReau The Neighborhood. Chapman currently teaches private lessons and volunteers with The A-Flat Music Studio in Kansas City. He is very excited to have joined the Austin Custom Brass team and looks forward to working with you.
Laura Saylor: Sales and Educational Services
LAURA SAYLOR is a multi-faceted freelance trumpeter and music educator based in Kansas City. She has performed in national tours and presented educational chamber music clinics, masterclasses, and recitals throughout the Midwest and New Mexico. Saylor can be heard performing throughout the region with the Dubuque Symphony Orchestra, Fountain City Brass Band, Music Theater Heritage, The Crossroad Sound, Lost Wax, the KC Kumbiamberos, and in numerous independent classical music projects. She is the former principal solo cornetist of the Eastern Iowa Brass Band and was a founding member of the Tallgrass Brass Band and the Iowa-based funk band Motherlode. Past performing credits also include Bruce Vantine's Cornerstone Chorale and Brass, the Quincy Symphony, New Mexico Philharmonic, Santa Fe Symphony, Brass Transit Authority, and Dennis DeYoung and the Music of Styx. Saylor completed a doctorate in Trumpet Performance and Pedagogy with a secondary concentration in Orchestral Conducting at the University of Iowa where she was a member of the Iowa Brass Quintet. During her time in Iowa, she also worked as a teaching artist at West Music and Coe College. She recently recorded a solo trumpet album of contemporary American music for trumpet and piano.
Laura always looks forward to speaking with customers and helping them to find the instruments and accessories that will make their playing and musical study a more joyful experience. Ella es disponible para trabajar con nuestros clientes que hablan español.
Nate Nall: Sales and Shipping
Trumpeter Nate Nall has performed at Kansas City's most prominent jazz venues, including the Blue Room at the American Jazz Museum and Kauffman Center for the Performing Arts. He was a featured soloist with the Kansas City Jazz Orchestra and Deborah Brown on a 2018 tour in Germany and Poland. He has been featured on the nationally syndicated "12th Street Jump" jazz radio program. Nate was a residency participant in Betty Carter's Jazz Ahead performing original music at Washington D.C.'s Kennedy Center. In 2016, Nall won 2nd place in the distinguished National Trumpet Competition Jazz Division. Nate holds a B.M. Jazz Studies from University of Missouri-Kansas City where he studied with Jazz Messenger saxophonist Bobby Watson. Nate performs regularly around Kansas City with The Project H, Marcus Lewis Big Band (Brass and Boujee), Chris Hazelton, Louis Neal Big Band, the David Basse/Joe Cartwright Septet, Patrick Lentz Band/KC FLO, Musical Theater Heritage, David George Band, Brass Rewind, Joey Panella Trio and his own group, the Nate Nall Quintet, performing original compositions and arrangements. Check out his debut album "Places To Go" (2018) at www.natenall.com
Nate is a BAC Custom Trumpet Performing Artist.