Description
Orchestral Rotary Bundle! Get everything you need to be ready for rotary trumpet playing at the highest levels! Includes the following:
Schagerl Berlin C trumpet (your choice of options, klappen, triggers, and finishes)
Gard Elite Triple Trumpet Bag in Leather
ACB branded Gard Quad Mouthpiece Pouch
Gard Taco Insert (turns the Gard Triple Trumpet bag into a quad)
Hetman #12 and #14 rotary oils
Austin Custom Brass is honored to be an official dealer of the world-class Schagerl Berlin model rotary C trumpet!
Rotary trumpets have hit the mainstream of American orchestral work. As more and more orchestral auditions require excerpts on rotary trumpet, owning a rotary C trumpet is becoming increasingly important if you want to win a job. Maybe you borrowed a horn to win the job and now you need your own horn to keep it. Even as a freelance classical trumpeter you will get called for gigs that require a rotary trumpet. Because of the subtle differences in the feel and response between piston and rotary trumpets, you need a horn you can practice with on a regular basis if you want the best musical results.
Schagerl's Berlin model rotary C trumpet features

perfect balance in all registers, easy response, and a distinctive dark sound.
For the best intonation you can order this horn with the optional klappen keys. To hear the effect of these keys, check out the excerpt videos below.
If you have any questions please send us an email or give us a call at (816) 410-0826! We also offer several financing options.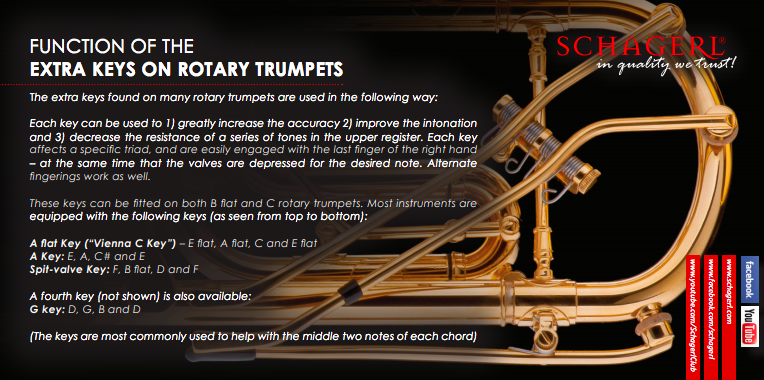 Check out this quick video we recorded at the shop!
Specifications:
Key: C
Bell:

132 ml / 0.5 gold brass

Valve stick:

heavy (ML bore)

Mouthpipe:

changeable
All Schagerl trumpets are shipped for free in the US!
Our customers love the Schagerl Berlin C trumpet! Check out these customer reviews:
"I ordered Berlin Heavy C trumpet and had it for a week now. I am continuously being astonished by well-balanced tone quality and ease of playing this fantastic horn gives. One of the best C trumpets available in the market, if not the greatest!" -Richard
"I genuinely love this horn. It's an extremely clean sound and just wonderful to play." -Christopher
Custom builds take about 12 weeks.
This video demonstrates the care and

maintenance that will keep your rotary trumpet working smoothly:
The Gard Elite Triple Trumpet Bag is Stylish and Convenient!
You need to have your Schagerl Berlin rotary C trumpet at the gig, but you probably also need your piston C trumpet and maybe a piccolo. With the taco insert, you can configure this bag to hold all 3 and more! In addition to providing incredible protection, these bags are well-made, sustainably crafted, and the workers are paid a living wage.
Made from supple water buffalo leather, this is a sleek and stylish trumpet case. This is the perfect case for easy traveling. The superior protection is a result of Gard's patented mid-bag suspension system that holds the trumpet in place, and then reinforced by 2mm thick PVC inserts. This case also comes with a rain protector that can cover the case, and a luggage tag. It can be used as a backpack or worn over the shoulder. The front pouch can fit plenty of accessories as well!
Here's a customer review of this bag:
"This case is absolutely amazing! The quality of the leather and the construction is completely uncompromising. The clean design of the case is both stylish and professional, great for walking into that gig or audition and killing the first impression. The horn protection is also outstanding, and especially so for such a light case. I will also say that I am blown away by the ACB custormer service. That is completely unsurprising, though, if you have any experience dealing with Trent or his colleagues. Keep up the great work!" -Taylor
Also included: an ACB branded Gard quadruple mouthpiece pouch!
This fantastic leather mouthpiece pouch from Gard features the ACB logo! The inside of these mouthpiece pouches is lined with velvet, and the exterior is a durable water buffalo leather. There's a belt loop on the back (and velcro as well) for ease of use. This is the perfect way to transport all your ACB mouthpieces!

If you have additional questions, please send us an email!
Prior to ordering please check our Shipping and Returns policy.
Also note weight indicated in the ad is shipping weight not actual weight of the items.
Austin Custom Brass, ACB, Trent Austin, For sale, custom brass shop, custom trumpet, Kansas City, kc, kcmo, Trumpet,, mouthpiece, mouthpieces, custom mouthpiece, best trumpet, cheap trumpet,
View All
Close