BRASSGIVING IS HERE!
Our annual Brassgiving sale starts today! The coupon codes are valid thru December 3. To use the codes, enter the coupon you wish to use in the Coupon/Gift Certificate box (usually on the right side of the checkout window), click "Apply," and save!
GobbleGobble = save almost 5% on orders over $1,000 (only 20 uses total!)
BFCM23 = save 30% on new ACB mouthpieces
GIVING = save 5% on most new and preowned horns over $1,500 AND we'll donate 50% of our profits to the ASPCA
SmallBizSat = save 6% on most new horns over $3,000
Come visit us for special in-shop pricing and deals on Brass Friday, Small Business Saturday, and Cyber Monday!
Monday = 10a-5p
Tuesday = 10a-5p
Wednesday = 10a-2p
Thanksgiving = CLOSED
"Brass Friday" = 9a-5p
"Small Business Sat." = 9a-4p
Sunday = CLOSED
"Cyber Monday" = 10a-5p
We recommend you arrive at least an hour before close to give yourself plenty of time to explore the shop. We'll be back to our regular shop hours on the 28th. Come hang with us this week!
- Team ACB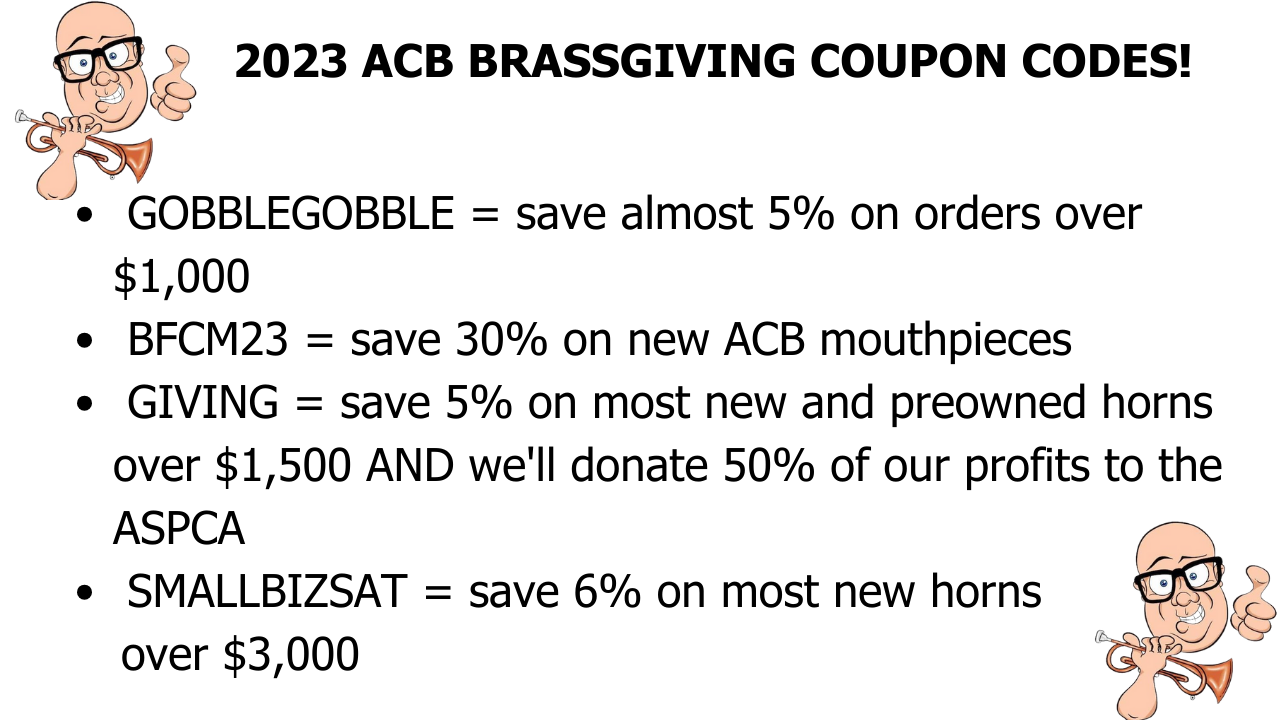 Recent Posts
CYBER MONDAY DEALS!Take advantage of our exclusive Cyber Monday deals thru 11:59p on the 28th of Nov …

Come take advantage of exclusive in-store offers! Brass Friday = 9a-5pSmall Biz Saturday = 9a …

THANK YOU.As I reflect on Thanksgiving, I couldn't be more blessed, grateful, or honored by your sup …