Product Overview
Special sale price! In stock and priced to sell!
Austin Custom Brass is honored to be an official dealer of the world-class Schagerl Berlin model rotary C trumpet!
Rotary trumpets have hit the mainstream of American orchestral work. As more and more orchestral auditions require excerpts on rotary trumpet, owning a rotary c trumpet is becoming increasingly important if you want to win a job. Maybe you borrowed a horn to win the job and now you need your own horn to keep it. Even as a freelance classical trumpeter you will get called for gigs that require a rotary trumpet. Because of the subtle differences in the feel and response between piston and rotary trumpets, you need a horn you can practice with on a regular basis if you want the best musical results.
Schagerl's Berlin model rotary C trumpet features perfect balance in all registers, easy response, and a distinctive dark sound. Dual trigger and klappen already included!
Want an even better deal?! We're sweetening the pot with our exclusive Orchestral Rotary Bundle!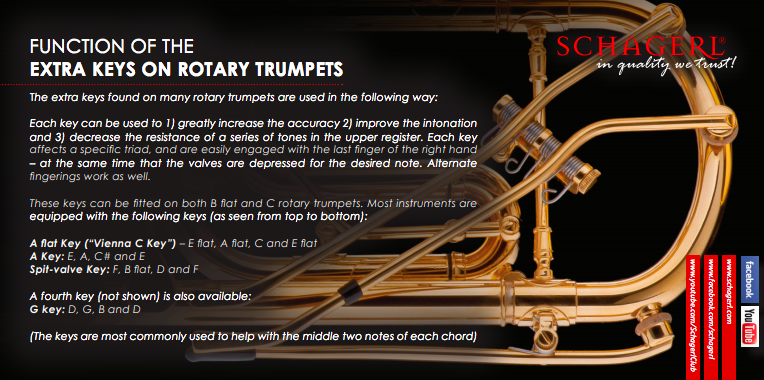 Check out this quick video we recorded at the shop!
Specifications
Key: C
Bell:

132 ml / 0.5 gold brass

Valve stick:

heavy (ML bore)

Mouthpipe:

changeable
All Schagerl trumpets are shipped for free in the US!
Plays well with the Schagerl Apredato Mouthpieces!
Our customers love the Schagerl Berlin C trumpet. Check out this review:
"I ordered Berlin Heavy C trumpet and had it for a week now. I am continuously being astonished by well-balanced tone quality and ease of playing this fantastic horn gives. One of the best C trumpets available in the market, if not the greatest!" -Richard
This video demonstrates the care and

maintenance that will keep your rotary trumpet working smoothly:

No case or mouthpiece included

Prior to ordering please check our Shipping and Returns policy.

If you have any questions please send us an email or give us a call at (816) 410-0826! We also offer several financing options.

Also note weight indicated in the ad is shipping weight not actual weight of instrument.

Austin Custom Brass, ACB, Trent Austin, For sale, custom brass shop, custom trumpet, Kansas City, kc, kcmo, Trumpet,, mouthpiece, mouthpieces, custom mouthpiece, best trumpet, cheap trumpet,
Product Videos
Reviews