My #1 selling mouthpiece at ACB!
ACB MV 3C Special Trumpet Mouthpiece
I have often wondered why you see the eBay auctions of Bach Mount Vernon 3C mouthpieces sell routinely for $400 and more. Is there something special and different to these pieces over a traditional 3c?
Well... the answer I found out was YES!
Check out the overlay below for a comparison of my standard 3C (in red) to the ACB MV 3C: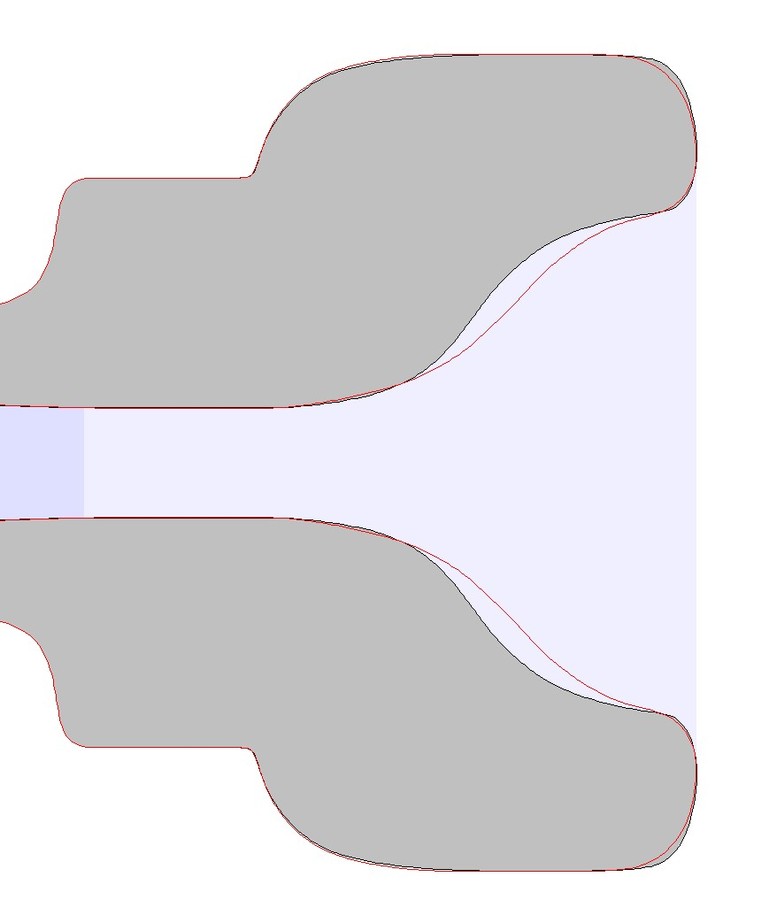 I am now offering this custom mouthpiece in my line for a lot of reasons but mostly because it sounds so great! It is a bit bigger all-around (as seen in the overlay) than the traditional 3C. For me it feels a smidge smaller than a 1 1/2C. I also put my MO backbore (smaller symphonic shaped) and a #26 throat in this piece. The sound shape is tremendous and rich.
All non-standard blank ACB pieces are custom orders and take 4 weeks.
Call the Mouthpiece Hotline with questions or to place an order! +1-781-816-9664
Product Reviews
This mouthpiece is beast! Effortless to play with a brilliant sound. Highly recommend.
This mouthpiece is awesome. It feels super comfortable. I've been playing on a Monette 4c for a year before emailing ACB. Without hesitation Josh recommended the MV 3C. I am nowgetting upper register notes with so much ease. I cant explain why. The Haydn and myself thank you.
Wonderful. Plays great.
Before trying ACB Mouthpieces I have played nothing but Monette mouthpieces for 24 years - primarily the B6. I got my first MV3C almost a year ago and loved it so much I ordered a new one in gold plate. Words can't describe all the benefits I experienced from this mouthpiece including the ease of playing, clarity of attack and benefits to my overall core sound. THIS MOUTHPIECE ROCKS!!!!!! I have experienced nothing but the best customer service and quality of workmanship from Austin Custom Brass and have referred multiple friends to their website for horns and mouthpieces. I am completely satisfied with everything I have purchased from them from this mouthpiece to horns. Keep up the amazing work!
Wow, just Wow!!!! 5 stars is not enough to rate this masterpiece. This mouthpiece help me recreate my sound concept without any compromise. I played on Monette mouthpieces, and this one beat it without any doubt. You will have other order from me soon!!!!
The ACB MV3C was my first ACB mouthpieces. Since then I must have had about 12 different ACB mouthpieces. Some are gone and about 8 are left here. They are all extremely good mouthpieces and get some playing time here and there, but the ACB MV3C gets by far the most playing time. It's just a super mix between full sound, great attack, easy playability and efficiency.
AUSTIN CUSTOM BRASS MV 3C SPECIAL MOUTHPIECES
Nice look for the super slug, I really enjoyed the sound quality that came from it. A great tool to be used!
Great mouthpiece and customer service
Trent and his team are really great service people... very knowledgeable, friendly, efficient, and quick! This mouthpiece is also really great. Being a Bach mouthpiece player for many years, this piece for me matches the rich and subtle tones of the Bach... yet it is easier to play and more efficient, and when it's time to turn on the "heat", the upper range plays and projects brilliantly and easily. Great all around m.p.
This mouthpiece is everything that it is represented to be. The slightly larger (than regular 3C) diameter and medium deep cup are especially good if you are playing lower parts such as 3rd or 4th trumpet. Thanks, Trent!
For those of you considering this piece, just get it! I ordered mine in the modern blank, gold plated. Very colorful sound! And, with the modern blank's length, the throat needn't be bored out to compensate for a flat upper register. Right out of the box, I demo'd it with some excerpts; from Mahler 5 to Alpine Symphony to Tannhauser to Broadway...this piece delivers the colors you want! This piece feels almost as big (diameter) as a 1.5C, but is more efficient (personally, it sounds bigger and more symphonic on my Blackburn Bb and Bach 239 C). I even played Brandenburg on this thing and it sounded great! Maynard licks were next...limited only by my chops!! Seriously, just get it--you won't be sorry!
I've been playing the MV3C in the modern blank for about 3 months now and what a difference!! The cats in my band noticed an immediate difference in the core of the sound as well as the ease of play. I would highly recommend this to any trumpet player out there!! Thanks Trent!.... just got the MV3C equivalent for my Flugal horn and can't wait to tear into that!
I will compare this piece to the Curry 3C., since I have been playing that for years and many people have one. The rims are basically the same -- my chops could not feel a difference, which is fine because it's a great rim. The inner diameter felt the same too. So if you like your Curry 3C., you will have a seamless transition to this MV 3C. The tone is very similar, but the ACB had more power / depth to the sound as I played above the staff. I wouldn't say the Curry gets "thin" above the staff necessarily, but it is thinner by comparison. The ACB, for me, had all the brilliance of the Curry plus a dark core underneath it. This can probably be attributed to the backbore Trent designed, but I don't know. This is coming from an amateur player. I am just a lowly middle school band director, not a pro player. Someone with better chops and more practice time could probably get a lot more out of this piece that I can. Bottom line: The MV3C is everything you love about your Curry 3C. but with more dark power / core to the sound.
I've played this piece for about 8 months now and love it. It's very comfortable, has wonderful tone quality on my Selmer Radial. I got the superslug blank. Couldn't ask for a better person to work with. Trent Rocks!!!