Description
The ACB Classic Mouthpiece Series: Affordable Mouthpieces Based on Bach Mount Vernon and New York Designs
I have often wondered why you see the eBay auctions of Bach Mount Vernon mouthpieces routinely sell for $400 or more. Is there something special and different about these mouthpieces over more modern designs?
Well... the answer I found out was YES!
Check out the overlay below for a comparison of my standard 3C (in red) to the ACB MV 3C: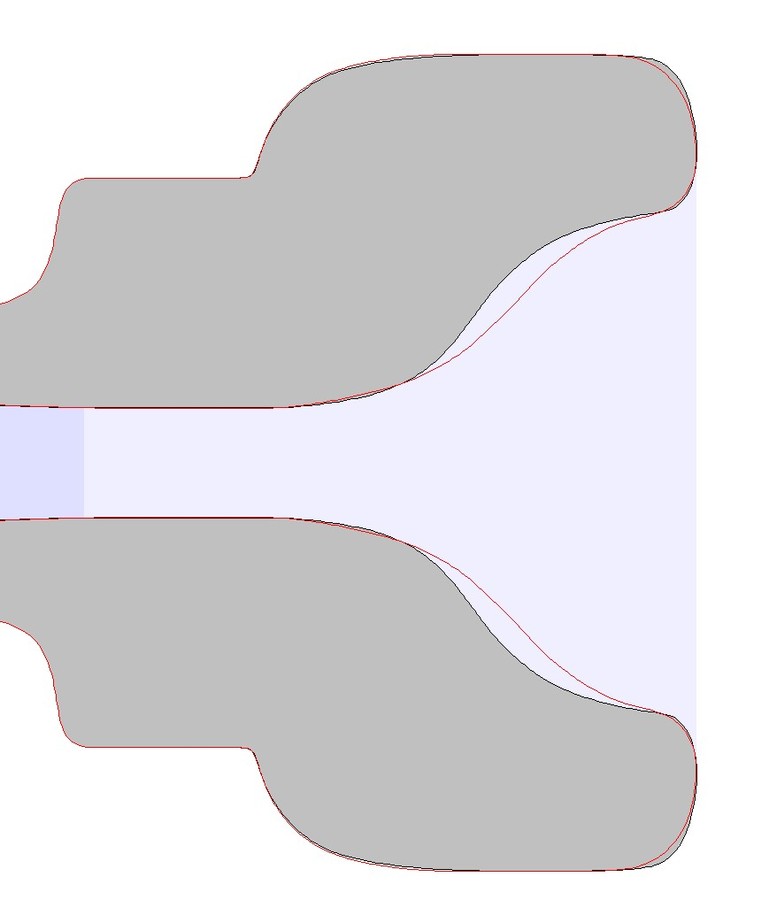 One of the goals of ACB has always been to make great gear more available. Our Classic Series brings you modernized versions of the larger MV sizes that are rare and expensive on the secondary market. Our mouthpieces are made in America with the best tolerances in the industry and incredible consistency. We are now offering several mouthpieces as part of our classic MV and NY series pieces. These are excellent mouthpieces for classical and orchestral work -- I even use them for small group playing too!
ACB Classic Series Mouthpieces:
NY1: This originally started out as a CMM scan of a very early New York Bach 1 mouthpiece. The cup and rim are very similar, the backbore and throat are mated with this cup to produce a very large sound shape. Matched to my O backbore it is a great orchestral mouthpiece! The inner diameter is .677"
MV 1.25C: This is my modernized take on this classic mouthpiece. I match this piece with my O backbore and a slightly enlarged throat and throat entrance. It plays incredibly well and also has a very "classic" sound! The inner diameter is .673"
MV 1.5C: This is my modernized take on this classic mouthpiece. I match this piece with my MO backbore and a slightly enlarged throat and throat entrance. It plays incredibly well and also has a very "classic" sound! I'm using this for my everyday piece these days.
MV 3CB: The ACB MV 3CB is based on our most popular rim, the MV 3C, with our hybrid CB cup. The CB cup is a hybrid of New York Bach 5B scan blended with some elements of a C cup. This mouthpiece is pretty deep with a nice entrance into the throat, which gives it a little crisper articulation than a B cup without getting as bright overall as a C cup. This mouthpiece has a 24 throat and our A1 backbore (fairly open but not too much). It's a very rich sound that's great for orchestral playing and for jazz soloists. Many players have preferred this mouthpiece in our Traditional blank
MV 3C: It is a bit bigger all-around (as seen in the overlay) than the traditional 3C. For me it feels a smidge smaller than a 1 1/2C. I also put my MO backbore (smaller symphonic shaped) and a #26 throat in this mouthpiece. The sound shape is tremendous and rich. The inner diameter is .664"
MV 3CS: MV3C rim with my CS cup -- it's slightly smaller and also has a much more efficient entrance into the throat. This helps the articulation and adds a lively "zip" to the sound. This mouthpiece is especially good on vintage trumpets or overly dark horns to make them "speak." Paired with the MO backbore for a balanced feel.
MV 3L: The ACB MV 3L is based on the ACB MV3C rim but with a more aggressive commercial cup. It's more aggressive and compact sounding than the TA2 (using the same rim) but the cup is not too shallow, probably around an E cup. This mouthpiece has our S (standard) backbore, a 27 throat, and a medium-shallow bowl shaped cup. It's a good choice for players coming from a B4L, for example.
665MC: Slightly larger than the MV 3C, this has a more efficient cup shape than on my MV 3C mouthpieces. The ACB 665MC fits a great niche in our mouthpiece line. It's between our MV3C and TA2 mouthpieces, a little shallower than our MV3CS, but the rim is a little bit wider. It has a different cup shape from our CS cup and is also not a D cup. It has really good efficiency without being too shallow. Many players prefer this mouthpiece in our traditional blank.
Shape Comparison Overlay
Here's an overlay of the basic pieces (NY1: red; MV 1.25C: blue; MV 1.5C: green; MV 3C: cyan; MV: gray)
Our customers love these mouthpieces! Check out some reviews:
"I have the MV3C and the MV3L. Both have a great sound and are really easy to play." -Mario
"Best mouthpiece I've ever used, hands down! Articulation, range, sound, stamina. I thought my Giardinelli 3C was performing just fine, but wondered if something might be a little better. Beyond my highest expectations!" -Peter, reviewing our MV 3C
"Both are awesome pieces! Rim is thick and comfortable. The MV3C has a darker sound but extremely responsive in upper and lower registers. The MV3CS is has a much brighter, richer sound! On a side note my customer service experience with these guys are second to none... They'll respond to you faster than you can type." -Jason
"I had used a vintage Bach 1X for years and decided to go back to that size. I had misplaced my favorite and, at Josh's suggestion, ordered the ACB New York 1 in a Bach-style blank. It feels exactly as I remember and plays great. Fit and finish are superb and intonation is spot-on. I have always been totally satisfied with my purchases from Austin Custom Brass and this mouthpiece is no exception. Thanks, Trent and Josh!" -Ben
All non-standard blank ACB pieces are custom orders and have a longer turnaround time.
Call the Mouthpiece Hotline with questions or to place an order! +1-781-816-9664
If you have additional questions send us an email.
Prior to ordering please check our Shipping and Returns policy.
Also note weight indicated in the ad is shipping weight not actual weight of item.
View All
Close